TECOMEC BRAND PROFESSIONAL "EVO" CHAINSAW SAW CHAIN GRINDER SHARPENER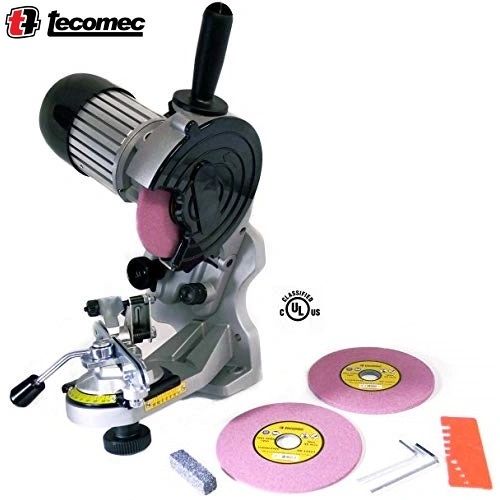 TECOMEC BRAND PROFESSIONAL "EVO" CHAINSAW SAW CHAIN GRINDER SHARPENER
Note: This is special order shipping delayed 2 - 5 days.
Fits

MOST MODELS
Chainsaw Sharpeners
Tecomec PROFESSIONAL "EVO" CHAINSAW SAW CHAIN GRINDER SHARPENER


Tecomec (made in Italy) The NEW Tecomec EVO chainsaw chain saw grinder features durable construction and a dependable cool-running 220-watt direct drive motor. It will sharpen chains 1/4", 3/8LP, .325, 3/8" and .404 pitch, round, semi-chisel and chisel cutter configurations. It will also sharpen 3/4" pitch chain by ordering optional accessories.
O.E.M. #
L47994
The grinder has a built-in light and a self-centering chain vise that has easy to use adjustments. This grinder can be mounted on bench, wall or vise.
Tecomec is the world's largest manufacturer of professional chainsaw saw chain grinders! 

Weight:

Dimensions:
Includes: 1 Grinder machine,  (3) grinding wheels (all 5-3/4" diameter with a thickness of 1/8", 3/16" & 1/4") , dressing brick, template and (2) Hex Wrenches.
                      See shipping delay above on this item.
( this will hold your entire order until we bring this in from supplier )

 Ships Usually In 24 Hrs & To You 1 to 7 Days Canada & U.S.A.

NOTE: Overseas Orders Will Be Sent  By Way Of Ocean 4 to 6 Weeks 
Contact Us Before Purchase If You Would Like Air Service 10 Days.
Any saws shown are for display purpose only and are not included.