...STIHL TS420 REBUILD KIT Cross Performance BRAND NIKASIL 50MM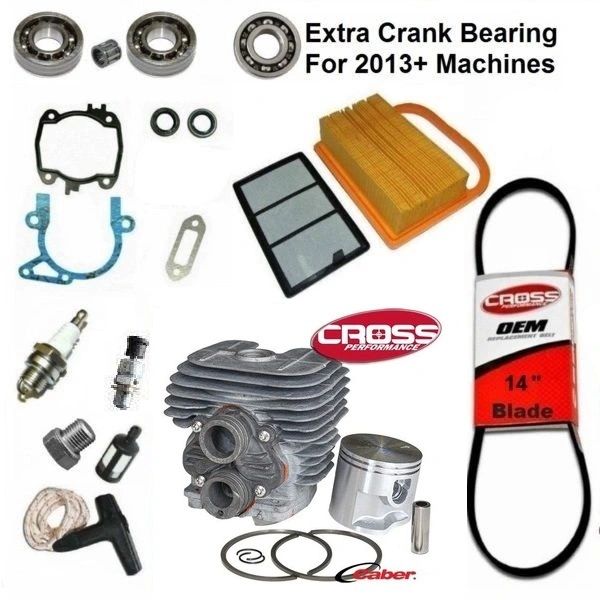 ...STIHL TS420 REBUILD KIT Cross Performance BRAND NIKASIL 50MM
Fits

 
STIHL
TS420                   

NIKASIL REBUILD KIT    

BORE DIAMETER           50mm

​DISPLACEMENT            66.7cc

QUALITY Cross Performance BRAND AFTERMARKET REPLACEMENT
​O.E.M.# 4238 020 1202, 4238 020 1205
Includes: Cylinder, Piston, Piston rings, Wrist pin & Clips, Crank main bearing set with extra bearing for newer model machines, Piston needle bearing, Gasket set with oil seals, Decompression valve, Decompression plug for machines with no valve, Fuel filter, Air filter combo, Spark plug, Starter handle with rope, Drive belt for 14" blade.
Decompression hole: YES

NOTE: In the summer of 2013 STIHL changed the bearing size on one side of the crankshaft to (15x35x11) # 9503 003 0359
All TS410 and TS420 saws before that have 2 (15x36.3x11) Bearings # 9503 003 0351
This Kit Has All Crankshaft Bearings For Every Model Year This Saw Was Made

 Ships Usually In 24 Hrs & To You 1 to 7 Days Canada & U.S.A.

NOTE: Overseas Orders Will Be Sent  By Way Of Ocean 4 to 6 Weeks 
Contact Us Before Purchase If You Would Like Air Service 10 Days.
Any saws shown are for display purpose only and are not included.