....STIHL TS410, TS420 OVERHAUL REBUILD KIT NIKASIL 50MM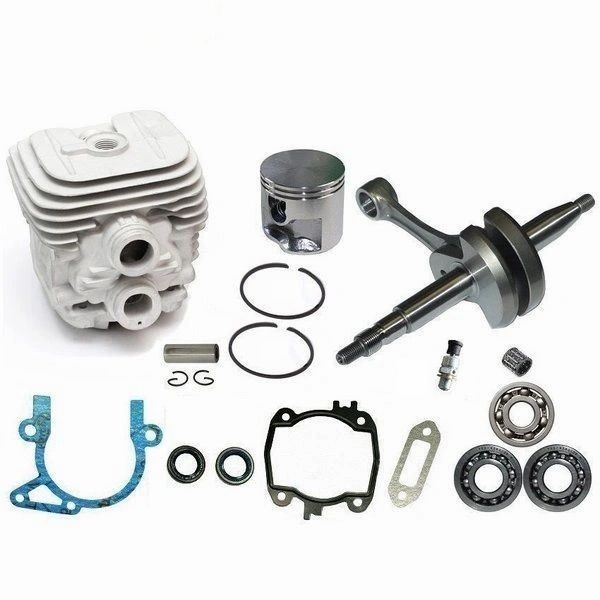 ....STIHL TS410, TS420 OVERHAUL REBUILD KIT NIKASIL 50MM
Fits

 
STIHL
TS410, TS420                    

NIKASIL OVERHAUL REBUILD KIT    

BORE DIAMETER           50mm

​DISPLACEMENT            66.7cc

QUALITY AFTERMARKET REPLACEMENT
​O.E.M.# 4238 020 1202, 4238 020 1205
Includes: Cylinder, Piston, Piston rings, Wrist pin & Clips, Crankshaft, Crank Main Bearing Set, Piston Needle Bearing, Gasket Set With Oil Seals, Decompression valve.
Decompression hole: YES

NOTE: In the summer of 2013 STIHL changed the bearing size on one side of the crankshaft to (15x35x11) # 9503 003 0359
All TS410 and TS420 saws before that have 2 (15x36.3x11) Bearings # 9503 003 0351
This Kit Has All Crankshaft Bearings For Every Model Year This Saw Was Made

 Ships Usually In 24 Hrs & To You 1 to 7 Days Canada & U.S.A.

NOTE: Overseas Orders Will Be Sent  By Way Of Ocean 4 to 6 Weeks 
Contact Us Before Purchase If You Would Like Air Service 10 Days.
Any saws shown are for display purpose only and are not included.