..STIHL BG75, FC75, FH75, FS46, FS75, FS80, FS85, FS120, FS200, FS250, FS300, FS350, HL45, HL75, HS75, HS80, HS85, HT70, HT75, MS191T, MS192T, MS200T CARB KIT FOR ZAMA CARBURETOR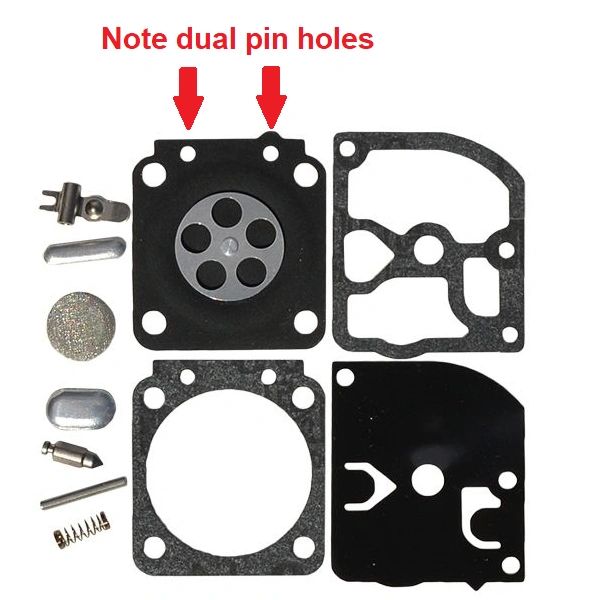 ..STIHL BG75, FC75, FH75, FS46, FS75, FS80, FS85, FS120, FS200, FS250, FS300, FS350, HL45, HL75, HS75, HS80, HS85, HT70, HT75, MS191T, MS192T, MS200T CARB KIT FOR ZAMA CARBURETOR
Fits

 
STIHL
BG75, FC75, FH75, FS46, FS75, FS80, FS85, FS120, FS200, FS250, FS300, FS350, HL45, HL75, HS75, HS80, HS85, HT70, HT75, MS191T, MS192T, MS200T
CARBURETOR REBUILD REPAIR KIT
QUALITY AFTERMARKET REPLACEMENT

​O.E.M.# 
RB-084
REPLACES: ZAMA RB-51, RB-57, RB-66, RB-84, RB-084, RB-85, RB-89, RB-91, RB-93, RB-109, RB-129, RB-144, RB-152, RB-159
Note: Dual holes on gasket/diaphragm, if your carb has single (CENTER) hole RB-100 carb kit is required.
Works with single (OUTBOARD) pin carburetors.
Fits Zama carburetors C1Q-S41A, C1Q-S41B, C1Q-S42, C1Q-S42A, C1Q-S42B, C1Q-S47, C1Q-S53, C1Q-S53A, C1Q-S56, C1Q-S60, C1Q-S41C, C1Q-S42C, C1Q-S47A, C1Q-S56A
PLEASE VERIFY YOUR CARBURETOR MAKE BEFORE PURCHASE

 Ships Usually In 24 Hrs & To You 1 to 7 Days Canada & U.S.A.

NOTE: Overseas Orders Will Be Sent  By Way Of Ocean 4 to 6 Weeks 
Contact Us Before Purchase If You Would Like Air Service 10 Days.
Any saws shown are for display purpose only and are not included.
GG FEBRUARY 18 2022
PAKING ROOM TABLE NOT ASSIGNED