..Permatex Blue Medium Strength (removable) THREADLOCKER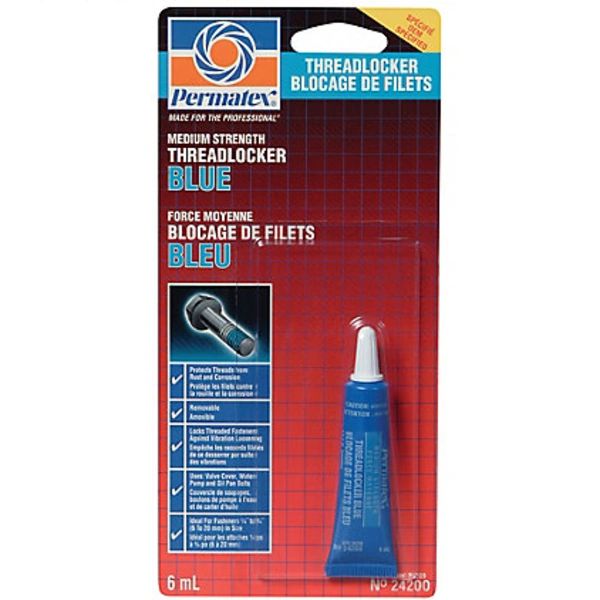 ..Permatex Blue Medium Strength (removable) THREADLOCKER
Permatex
Blue Medium Strength 

(removable) THREADLOCKER
6 ml Blue Medium Strength THREADLOCKER

Used to keep bolts and nuts from coming loose on chainsaw engine and body.

Permatex Threadlockers are superior to conventional lock washers, nylon inserts, and other mechanical devices because they secure the entire fastener assembly against loosening from shock and vibration, so fastener clamping forces are maintained. Threadlockers also seal the threads against leakage, preventing rust and corrosion. Available in a variety of strengths and temperature ratings, Permatex Threadlockers are simply the most reliable way to lock and seal threaded fasteners of all shapes and sizes, either before or after assembly.

Removable strength, general purpose threadlocker designed for fasteners 1/4" to 3/4 (6mm to 20mm)

Protects threads from corrosion and prevents vibration loosening.

Removable with hand tools and normal effort.

Temperature range: -54°C to 149°C (-65°F to 300°F) intermittent
Applications: Valve covers, oil pans, water pumps, thermostat housings, transmission pans
Size 6 ml
Weight 0.018 KG
Includes: 1 Tube

 Ships Usually In 24 Hrs & To You 1 to 7 Days Canada & U.S.A.
NOTE: Overseas Orders Will Be Sent  By Way Of Ocean 4 to 6 Weeks 
Contact Us Before Purchase If You Would Like Air Service 10 Days.
Any saws shown are for display purpose only and are not included.