<>J-B Weld Steel Reinforced Epoxy, 28-g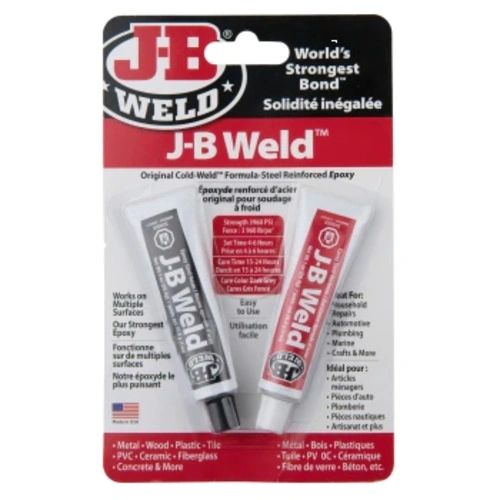 <>J-B Weld Steel Reinforced Epoxy, 28-g
J-B Weld Steel Reinforced Epoxy, 28-g
(2) 28.4-g tubes 3,960 P.S.I. Tensile Strength Epoxy
A 2-part epoxy system that provides strong, lasting repairs to metal and other surfaces without welding or brazing.

JB Weld Steel Reinforced Epoxy is a great alternative to welding, soldering, and brazing
Will bond to most clean and dry surfaces, sets in 4-6 hours, and will fully cure in 15-24 hours
Waterproof, petroleum, chemical, and acid resistant when full cured
Can be drilled, tapped, machined, filed, sanded and painted
Super strong, non-toxic, and temperature resistant up to 550°F
Each pack comes with (2) 28.4-g tubes
Temperature range: -54°C to 288°C (-65°F to 550°F) intermittent
Applications: Valve covers, oil pans, water pumps, thermostat housings, transmission pans
Size 2 - 28 gram tubes
Tensile strength of 3,960 P.S.I.

Includes: 2 Tube package
Note: This is special order shipping delayed 3 - 5 days.


 Ships Usually In 24 Hrs & To You 1 to 7 Days Canada & U.S.A.
NOTE: Overseas Orders Will Be Sent  By Way Of Ocean 4 to 6 Weeks 
Contact Us Before Purchase If You Would Like Air Service 10 Days.
Any saws shown are for display purpose only and are not included.