...Hyway BRAND MAKITA DPC 7300, 7301, 7310, 7311, 7312, 7314, 7320, 7321, 7331 Dolmar PC7312, PC7314, PC7330, PC7335, PC7430, PC7435 C Wacker BTS 930, 935, 1030, 1035 CYLINDER KIT STANDARD 50MM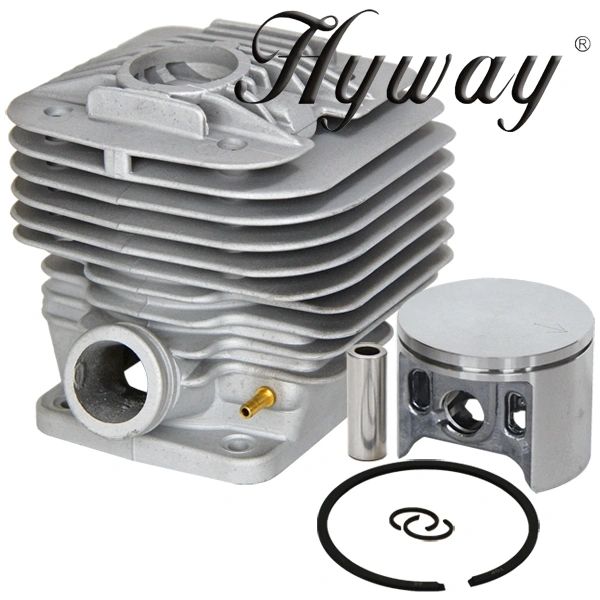 ...Hyway BRAND MAKITA DPC 7300, 7301, 7310, 7311, 7312, 7314, 7320, 7321, 7331 Dolmar PC7312, PC7314, PC7330, PC7335, PC7430, PC7435 C Wacker BTS 930, 935, 1030, 1035 CYLINDER KIT STANDARD 50MM
Fits

 
Makita
DPC 7300, 7301, 7310, 7311, 7312, 7314, 7320, 7321, 7331
Fits

 
DOLMAR 
PC7312, PC7314, PC7330, PC7335, PC7430, PC7435 C and 7300 chainsaws
Fits

 
WACKER 
BTS 930, 935, 1030, 1035
The decompression port is on the left side of the cylinder, which is all the early L3 version wacker saws.
With the exhaust facing forward the decompression port is on the left hand side.
Will fit newer model wacker saws with right side decompression port,
(EK7301 included)
When a decompression blocking plug is installed,
(your valve will be disabled)
Hyway BRAND NIKASIL CYLINDER REBUILD KIT
BORE DIAMETER           50mm

​DISPLACEMENT            73cc

QUALITY AFTERMARKET REPLACEMENT
​O.E.M.# 395 132 050, 394 130 014, 394 130 015, 394 130 016, 394 130 017, 394 130 140 , 0108119
H30730

Includes: Cylinder, Piston, Piston rings, Wrist pin & Clips

Decompression hole: YES (valve or plug needed)


 Ships Usually In 24 Hrs & To You 1 to 7 Days Canada & U.S.A.
NOTE: Overseas Orders Will Be Sent  By Way Of Ocean 4 to 6 Weeks 
Contact Us Before Purchase If You Would Like Air Service 10 Days.
Any saws shown are for display purpose only and are not included.