.....Husqvarna 362, 365, 371, 372, 385, 390 Jonsered 2063, 2071, 2163, 2165, 2171, 2172, 2186, 2188 OIL PUMP, WORM GEAR, LINE, PIPE COMPLETE REPLACEMENT KIT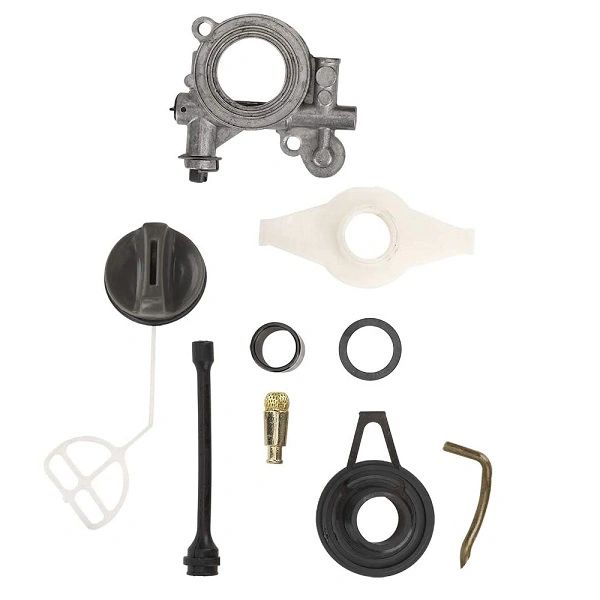 .....Husqvarna 362, 365, 371, 372, 385, 390 Jonsered 2063, 2071, 2163, 2165, 2171, 2172, 2186, 2188 OIL PUMP, WORM GEAR, LINE, PIPE COMPLETE REPLACEMENT KIT
Fits

 

Husqvarna

 
362, 365, 371, 372, 385, 390
Fits

 

Jonsered

 

2063, 2071, 2163, 2165, 2171, 2172, 2186, 2188
OIL PUMP COMPLETE REPLACEMENT KIT
QUALITY AFTERMARKET REPLACEMENT

​O.E.M.#
503 52 13-01, 503 75 61-02, 503 75 61-02, 503 42 67-01, 501 54 41-02, 503 77 43-01, 503 23 00-59, 503 77 91-01, 537 21 52-02
5035213-01, 5037561-02, 5037561-02, 5034267-01, 5015441-02, 5037743-01, 5032300-59, 5037791-01, 5372152-02

503521301, 503756102, 503756102, 503426701, 501544102, 503774301, 503230059, 503779101, 537215202

B08YVYKB7F

Includes:
Oil pump assembly, Worm gear (late model), Worm gear (early model), Oil line, Oil filter screen, Oil pipe (metal), Washer, Sleeve, Oil filler cap.

 Ships Usually In 24 Hrs & To You 1 to 7 Days Canada & U.S.A.

NOTE: Overseas Orders Will Be Sent  By Way Of Ocean 4 to 6 Weeks 
Contact Us Before Purchase If You Would Like Air Service 10 Days.
Any saws shown are for display purpose only and are not included.
2022 WW