...HUSQVARNA 272 Hyway BRAND POP-UP PISTON OVERHAUL REBUILD KIT NIKASIL 52MM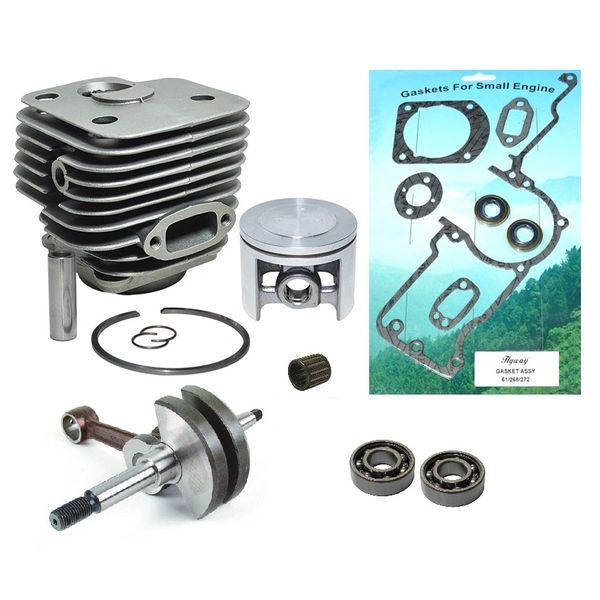 ...HUSQVARNA 272 Hyway BRAND POP-UP PISTON OVERHAUL REBUILD KIT NIKASIL 52MM
Fits

 
Husqvarna
272
        
 

NIKASIL POP-UP PISTON OVERHAUL REBUILD KIT
BORE DIAMETER           52mm

​DISPLACEMENT           72.2cc

HIGH QUALITY Hyway BRAND AFTERMARKET REPLACEMENT
​O.E.M.# 503 60 96-71, 503 61 33-71, 503 75 81-71
H30273

Includes: Cylinder, Piston, Piston rings, Wrist pin & Clips, Crankshaft, Crank Main Bearing Set, Piston Needle Bearing, Gasket Set With Oil Seals

Decompression hole: YES (valve or plug needed)

NOTE: (will not fit older models with 2 pcs. coil systems)
Will only work with flywheels that have (cast in) key.
This crankshaft listed has fine thread (older saws have coarse thread).


 Ships Usually In 24 Hrs & To You 1 to 7 Days Canada & U.S.A.
NOTE: Overseas Orders Will Be Sent  By Way Of Ocean 4 to 6 Weeks 
Contact Us Before Purchase If You Would Like Air Service 10 Days.
Any saws shown are for display purpose only and are not included.