`<>HEAVY DUTY 4 TON HYDRAULIC BOTTLE JACK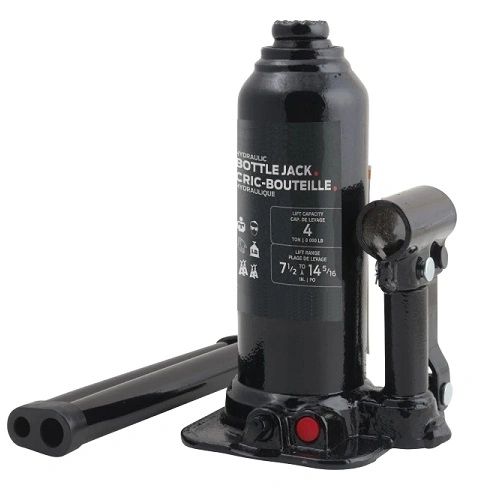 `<>HEAVY DUTY 4 TON HYDRAULIC BOTTLE JACK
HEAVY DUTY 4 TON HYDRAULIC BOTTLE JACK

For automotive, foundations, farms, heavy industry, construction, and your home workshop. Vertical use only.
Wide, HD steel base plate (weldable)

O.E.M. #
8760860

Weight:
7.25 LBS
Dimensions:
Base Size 4-3/8'' x 3-13/16'' inches
Lift Capacity 4 ton.
Screw Top Adjustment 2-3/8'' inches
Lift Capacity 8,000 LBS
Min. Lift Height 7-1/2'' inches
Max. Lift Height 14-5/16'' inches
Ram Travel 6-7/8'' inches
Manual operation,
Steel construction.
NOTE: Always use jack stands on stable ground in conjunction with any jacking system.
Note: This is special order shipping delayed 5 - 7 days.


 Ships Usually In 24 Hrs & To You 1 to 7 Days Canada & U.S.A.

NOTE: Overseas Orders Will Be Sent  By Way Of Ocean 4 to 6 Weeks 
Contact Us Before Purchase If You Would Like Air Service 10 Days.
Any saws shown are for display purpose only and are not included.