..CLEAR FUEL FILTER 5/16" BARBS FITS MANY MODELS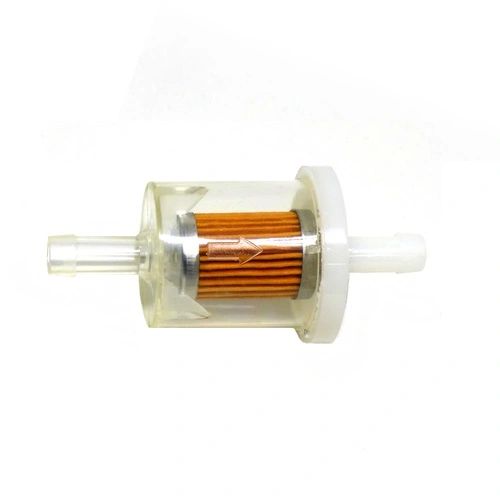 ..CLEAR FUEL FILTER 5/16" BARBS FITS MANY MODELS
Fits
Ariens 00682500, 00873700, 21410800, 21531800, 21534000, 21537900, 21538400, 21541500, 21544600, 21547900, 21548101, Bobcat 38666
Briggs & Stratton 493629, 5065H, 5065K, 691035, 695666
Gravely 00873700, 21410800, 21534000, 21538400, 21541500, 21544600
Jacobsen 5000436
John Deere AM1008356
Kawasaki 49019-0014, 49019-0707, 49019-7001, 49019-7005, 25 050 21-S
Kohler 25 050 21-S1
Land Pride 831-031C
831-035C
Tecumseh 34279A, 34279B, 34729, 740003B
Toro 105-8045, 108-3854
Walker 5020
Woods 70311

QUALITY AFTERMARKET REPLACEMENT
O.E.M. #
L98261-H17629

5/16", 8mm O.D. barbed fittings.
​This will fit a fuel line with an inner diameter of 3/16 TO 1/4 INCH

 Ships Usually In 24 Hrs & To You 1 to 7 Days Canada & U.S.A.

NOTE: Overseas Orders Will Be Sent  By Way Of Ocean 4 to 6 Weeks 
Contact Us Before Purchase If You Would Like Air Service 10 Days.
Any saws shown are for display purpose only and are not included.