..8 pieces Husqvarna, Poulan, Weedeater, Zama, Ryobi, Homelite Hex, Double D, Splined 21, Splined 7, Single D, Pacman, Single D small, Pacman small carburetor adjusting tools and case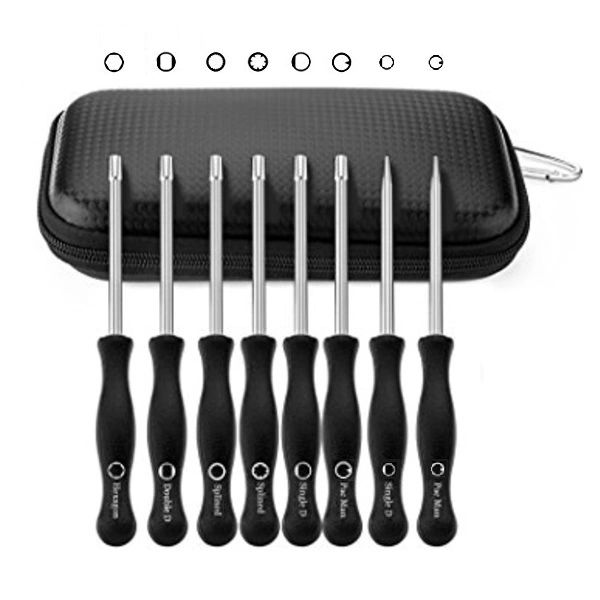 ..8 pieces Husqvarna, Poulan, Weedeater, Zama, Ryobi, Homelite Hex, Double D, Splined 21, Splined 7, Single D, Pacman, Single D small, Pacman small carburetor adjusting tools and case
Fits

 MANY MODELS
CUT-OFF, CHAINSAWS & GARDEN EQUIPMENT
Carburetor adjusting tools
FITS MANY Cut-off, Chainsaws & Outdoor power equipment with:
Hex, Double D, Splined 21, Splined 7, Single D, Pacman, Single D small, Pacman small
HEAD ADJUSTMENT SCREW
With storage case.
O.E.M. # 
L48025-48025
​For Most Husqvarna, Poulan, Weedeater, Ryobi, Homelite, Craftsman Carburetors.
Fits Walbro and Zama carbs and many other.

Adjusting a carburetor requires some knowledge and experience with small engines, 
DAMAGE TO YOUR ENGINE WILL RESULT IF CARBURETOR IS INCORRECTLY ADJUSTED.

 Ships Usually In 24 Hrs & To You 1 to 7 Days Canada & U.S.A.

NOTE: Overseas Orders Will Be Sent  By Way Of Ocean 4 to 6 Weeks 
Contact Us Before Purchase If You Would Like Air Service 10 Days.
Any saws shown are for display purpose only and are not included.